Janata Dal United (JDU) student candidate has suffered a setback in the Patna University Students' Union (PUSU) election, while former MP Pappu Yadav's party Jan Adhikar Vidyarthi Parishad (JACP) has won.
Pappu Yadav's party Jan Adhikar Students 'Council has performed brilliantly in the Patna University Students' Union elections. In Pappu Yadav's party, the student union has won two big posts in the elections. Manish Kumar of the Public Rights Students' Council has won the post of Chairman and Aamir Raza as Joint Secretary.
Nishant Kumar of RJD Student, Priyanka Srivastava of Akhil Bharatiya Vidyarthi Parishad (ABVP) has won the post of general secretary while Komal Kumari of AISA has won the post of treasurer. The results of the student union elections were declared late on Saturday night.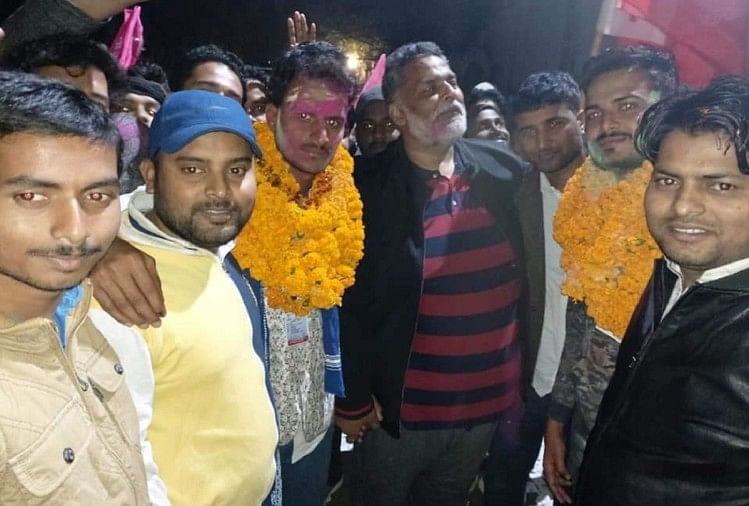 Note that BJP-affiliated Akhil Bhartiya Vidyarthi Parishad failed to perform well in the election as the ABVP managed to win only the secretary post. This is the worst performance of the ABVP in the PUSU election since 2012. Priyanka Srivastava of ABVP won the Secretary post. The student's wing of ruling Janata Dal (United) failed to win even one seat.
Pappu Yadav's Way of Politics Worked
You should know that during the heavy rains in Bihar, a red alert was issued in many areas. Water-logging conditions were also seen in Patna. During that time, Pappu Yadav went to every street and provided food and drinking water to the people. At the same time, the rising rights of onion, Pappu Yadav, a patron of the Jan Adhikar Party and former MP, is a constant aggressor on the BJP.
Recently, Pappu Yadav sold onion to the common people outside the BJP office in Patna at the rate of Rs 35 per kg. After this, he set up an onion shop near the house of Deputy Chief Minister Sushil Kumar Modi in Rajendra Nagar area and made people available cheap onions.